2018-2019 Course Dates
Aug 1-2 (Provider); Aug 3 (Instructor), 2018
Nov 7-8 (Provider); Nov 9 (Instructor), 2018
Feb 6-7 (Provider); Feb 8 (Instructor), 2019
May 1-2 (Provider); May 3 (Instructor), 2019
Aug 7-8 (Provider); Aug 9 (Instructor), 2019
Nov 6-7 (Provider); Nov 8 (Instructor), 2019
Course Faculty
Jay L. Schauben, PharmD, DABAT, FAACT
Thomas A. Kunisaki, M.D., FACEP, ACMT
Dawn R. Sollee, PharmD, DABAT, FAACT
Joseph Spillane, PharmD, DABAT
Mark Schreiber, PharmD, DABAT
Patrick Aaronson, PharmD, DABAT
Madison Schwartz, PharmD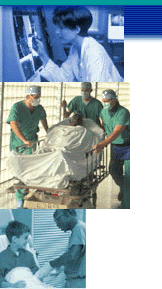 Jacksonville Hotels
Hampton Inn
800-445-8667
1331 Prudential Drive
www.hamptoninn.com
DoubleTree by Hilton
855-610-TREE
1201 Riverplace Blvd
www.doubletree3.hilton.com
Omni Hotel
888-444-6664
245 Water Street
Hyatt Regency
800-233-1234
225 East Coast Line Dr
www.jacksonville.regency.hyatt.com
Overview
The Advanced Hazmat Life Support (AHLS) Provider program is a 16 hour, 2-day course which trains the Participant to:
Contact:
FLORIDA/USVI POISON INFORMATION CENTER- JACKSONVILLE
655 West 8th Street, Box C-23
Jacksonville, FL 32209
(904) 244-4465 or
Fax (904) 244-4063
Marion Darby, Office Manager
E-mail: darby@poison.ufl.edu
Provide rapid assessment of hazmat patients
Recognize toxic syndromes (toxidromes)
Provide medical management for hazmat patients
Apply the poisoning treatment paradigm
Administer specific antidotes
The AHLS Instructor Program is a 6-hour, 1-day course that trains participants to demonstrate AHLS principles and adult education theory. AHLS instructors can then bring AHLS curriculum to their own area. If you are interested in holding an AHLS program in your area, please contact AHLS International Headquarters for more information.